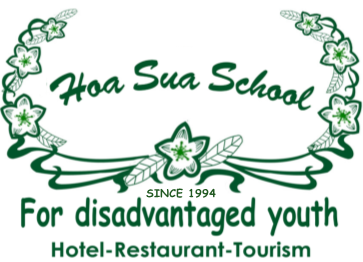 // thay = width tương ứng // thay = height tương ứng
SCHOLARSHIP AWARD CEREMONY BY HESSEN ORGANIZATION OF THE FEDERAL REPUBLIC OF GERMANY FOR HOA SUA SCHOOL STUDENTS
Today, Hoa Sua Vocational School of Tourism and Economics is delighted to introduce three outstanding students who have received scholarships in the field of Bakery and Confectionery Processing from the prestigious German University.
Firstly, we have Chau Thi May, born on July 18, 2006, a student majoring in Processing Technology (Zubereitungstechnik) at the Hoa Sua University of Economics and Tourism. Next, we have Nguyen Duc Nghia, born on October 12, 2004, specializing in Bread and Pastry (Brot und Kuchen).
Lastly, we have Chau Thi Cung, born on June 30, 2006, also studying in the field of Bread and Pastry (Brot und Kuchen). The perseverance and dedication of these three students have brought significant achievements in the field of food processing, bread-making, and confectionery. Despite coming from underprivileged ethnic minority backgrounds, they did not let their circumstances hinder their passion and relentless efforts. Through their enthusiasm, they have become a source of inspiration for other students in terms of patience and passion in the culinary field. The scholarships from the German University are a well-deserved recognition of the continuous efforts of these three exceptional students.
We are happy and proud to have Chau Thi May, Nguyen Duc Nghia, and Chau Thi Cung as students of Hoa Sua Vocational School of Tourism and Economics. We believe that your excellence in the field of bread and pastry processing will contribute significantly to future success and accomplishments.