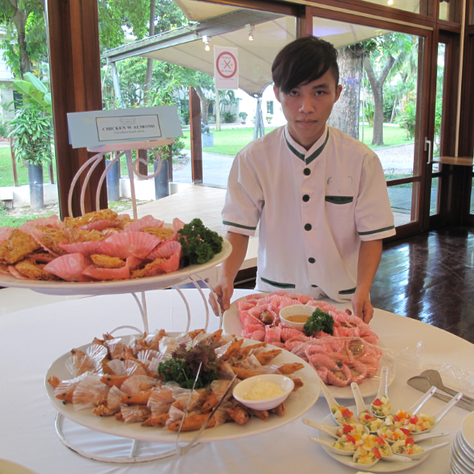 Hoa Sua School has a sector of catering service of its own too. It is famous for providing for buffets and at events in Hanoi. The school has had a long and great experience in organizing banquets for corporate or social events, weddings, birthday parties, banquet opening ceremonies, seminars and like. In today's busy world no one seems to have enough time to cook for a big party or discuss the menu in detail or even have the entire fiasco of having someone do it in their kitchen or setting up the table for that matter. At times like these, catering services play a major role. They are one call away and all your problems are solved! Hoa sua School has its own. It can provide for up to 100 people with the menu attached below which varies from Vietnamese to French cuisine. The services can be provided with customization informed in advance. The clients have an offer and advantage of getting a free tour of the entire school where they are taken to see the classes of all the services, get a chance to interact and a have a meal prepared by the very own students here if they avail to our catering services. It is a great opportunity for them to exchange some culture as all the students are from various parts of Vietnam. Specially getting to know the ethnic minority's culture would be an experience!

The services provided will be of high quality though it would be prepared by students but always under the teacher who would keep a quality check personally. The teachers are highly experienced in this field. They have worked in many parts of the world and hence, give the best training. The preparations of the order would take place in the school itself and the catering team would leave from here too. The payments made by the clients go completely into the funding for training the students, getting them material and like. It is a non-profit enterprise. The money given for this service is given back for their brighter future. The price is also schemed; the order with a larger guest count is likely to get a larger discount. The entire process boosts up the confidence of the students and gives them an insight into their future career. It develops their skills in organizing, managing and like. This service has had a perfect record of satisfying all its clients in its every service and will do so in the future. It is open to positive criticism as that is what will help it grow and develop. The school's catering service has a sole purpose of giving the best training by making them work during their training period to give a practical education yet providing professional service to the clients. We follow the idea that "Catering is an Art", we want customers to have complete joy and complete peace of mind to enjoy the party, so always try to bring a rich menu, delicious food, and Especially safe food hygiene. We understand the need for hygienic food when being prepared in bulk that is why we pay full importance to it.

They also do a wonderful job in hosting guests who come to visit the school, many a times a lot of tourists do. The students from here graduate and get jobs in some really respectable chains of hotels, restaurants and various other places due to their unbeatable skills which they learnt from the School.

In order to satisfy our customers, we offer diversified forms of catering such as :

Buffet (salty, vegetarian)

Sweet party cupcake

Tea break

Fingerfood

Thanks to Hoa Sua's full service package, customers can enjoy the buffet and all kinds of parties without having to worry about the organization, from 10 to 500 guests.
With the idea that "Cooking is Art", we want customers to have complete joy and complete peace of mind to enjoy the party, so always try to bring rich menu, delicious food and Especially safe food hygiene.


Contact us :
sales.hoasua@gmail.com
0936099395
Learners evaluate