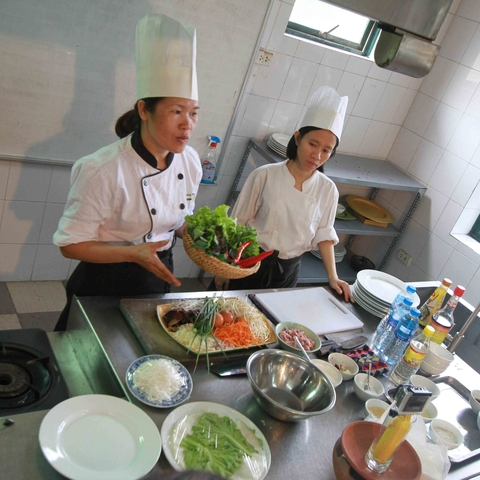 FOR THE CULINARY ENTHOUSTIAST
NO EXPERIENCE REQUIRED
Arguably, Vietnam produces some of the best cuisine in the world. The freshness of the herbs and balance of sweet, sour and spicy ingredients all combine to create some exotic and addictive flavors. You might also be surprised to learn that Vietnamese food is quite easy to prepare (with a little guidance) and the ingredients can be found in many western supermarkets. So, why not expand your culinary repertoire and join one of Hoa Sua's experienced teachers for a fun morning or afternoon of cooking?
One of our friendly, English-speaking instructors will meet you at the nearby market and introduce you to the range of fruits and vegetables available in Vietnam. They will also provide you with some helpful tips on how to pick the best ingredients to cook with. After the market tour, you will return to the restaurant where the instructor will take you step-by-step through the processes of preparing several dishes of your choice (see menu options). After we've turned you into a master Vietnamese chef, you'll be able to take your apron off, sit down in our restaurant and enjoy the food you just prepared served to you by our students. Be prepared to impress yourself !
Join our cooking class with 3 dish menu. You will have the opportunity to explore Vietnamese cuisine, interact with our talented and professional English speaking chefs.

CLASSES AVAILABLE MONDAY TO SATURDAY
MORNING CLASS runs 8:30 AM to 12 PM with lunch
EVENING CLASS runs 1:30 pm to 5:30 PM with dinner
A cooking class includes :

Market tour (optional)

Hands on preparation and cooking

An apron for you to use and keep
Please note: we always try our best to tailor the class itinerary to fit with our customers' schedule if possible. For people with limited time (or those who don't like to wake up early) the market visit is optional. Instead we will have all the ingredients prepared for you when you arrive so you can start cooking right away.
We offer classes in two locations: Hoa Sua Training Restaurant or Hoa Sua School. The Training Restaurant "Baguette & Chocolat" is located in the Ethnology Museum which is convenient for travellers who also wants to visit the museum. We also welcome those who would like to combine their cooking class with a visit to our school, located about 30mins south of the Old Quarter at Linh Nam, Hoang Mai. Please contact us for more detailed directions.
Cooking Class Menu Options (based on min. 2 persons):
Menu 1: 35 USD/ pax = 805.000vnđ/khách
Ha Noi Style Fried Pork Spring Rolls (Nem Rán)
Green Papaya Salad with Beef (Nộm Đu Đủ Bò Khô)
Grilled Chicken with Lemon Leaves (Gà Nướng Lá Chanh)
Menu 2: 45 USD/ pax = 1.035.000vnđ/ khách
Ha Noi Soup with Beef (Phở Bò)
Banana Flower Salad with Chicken (Nộm Hoa Chuối Thịt Gà)
Grilled Fish Hanoi Style with Dill and Turmeric (Chả Cá)
Sweet Black Sticky Rice Porridge (Chè)
Menu 3: 50 USD/ pax = 1.150.000vnđ/ khách
Ha Noi Style Fried Pork Spring Rolls (Nem Rán)
Ha Noi Soup with Beef (Phở Bò)
Caramel Stewed Fish in Clay Pot (Cá Kho Tộ)
Sweetened Lotus Seed Doughnuts (Bánh Rán)
Add Market Visit (optional):
Prices below include English speaking guided tour of local market and taxi transpiration from market to restaurant.
< 5 pax 15 USD/ group
From 6 - 10 pax 25 USD/ group
From 10 - 15 pax 35 USD/ group
From 15 – 20 pax 50 USD/ group

Contact us :
hoasuaschool@gmail.com
0523.616.067
How to book with us :
Step1: Choose the menu
Step 2: Advance payment via the following account
Full name of account holder: Trường Trung Cấp Kinh Tế Du Lịch Hoa Sữa
VNĐ

USD

Account number

002-1-00-004023-5

002-1-37-003 099-5

Bank

Vietcombank Ha Noi

Address

58 Lac Trung - Hai Ba Trung - Ha Noi - Viet Nam

SWIFT code

BFTVVNVX 002
| | |
| --- | --- |
| | EUR |
| Account number | 001 114 029 9301 |
| Bank | Vietcombank |
| Address | 30-31 Ngo Quyen - Ha Noi - Viet Nam |
| SWIFT code | BFTVVNVX 001 |
| | |
| --- | --- |
| | PAYPAL |
| Account number | ketoanhoasua@yahoo.com |
Step 3 : Contact us with
sales.hoasua@gmail.com
0936099395

Learners evaluate