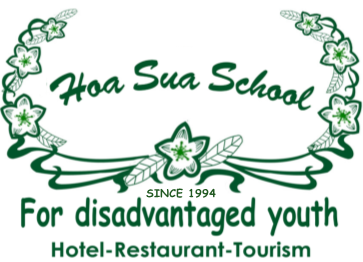 // thay = width tương ứng // thay = height tương ứng
WHEN DIFFICULTIES ARE PART OF LIFE
If success is the goal in everyone's life, there are countless different paths to reach that destination. The road to success, whether long or short, easy or difficult, will be achieved if we persevere, have passion, and are determined to overcome obstacles. The story of Le Bao Khanh - a former student of Hoa Sua School - is a vivid example of perseverance in achieving success.
Le Bao Khanh - a slender young man - enrolled in the Culinary Arts program at Hoa Sua School, Class CB3A1, for the academic year 2011-2013. For Khanh, the two years at Hoa Sua School were like an exciting journey in life. Hoa Sua School was where he first came into contact with culinary knowledge, where teachers instilled in him a love for the profession, and where he made countless memories with friends of the same generation. For Khanh himself, Hoa Sua School provided a professional training environment, focusing on skill development for students and offering the best learning opportunities for him and his peers. That was the solid foundation that gave the students the confidence to face future challenges.
After graduation, many Hoa Sua students immediately achieved success and secured positions with high incomes at workplaces. However, Le Bao Khanh's path to success faced more difficulties and obstacles. Those early challenges only strengthened the determination of this young man. After graduation, Khanh worked in the kitchen department of several restaurants in Hanoi. Dã Lien restaurant on Nguyen Du Street became the place where he stayed the longest, working there for one and a half years. New colleagues and a new environment brought him valuable experience, and practical insights into the culinary profession, as well as difficulties and challenges. After a period of working in line with his field of study at Hoa Sua School, Khanh decided to try a new profession at Gach Quan restaurant - 11A Bao Khanh Alley, Ho Tay. The position in the service department was unfamiliar to him, but Khanh quickly adapted and found a job that he loved.
Khanh shared that he couldn't pinpoint when he started to love this job. Initially, it was just a search for novelty, a search for experiences in a position he had never been trained for. However, this job strangely had an allure that made him stick with it for a year. The passion for culinary knowledge and love for the profession was still there, but Khanh decided to continue with his current position to gain more experience. With a monthly salary of around 4.5 million VND at Gach Quan, Le Bao Khanh is still on his path to success, even though it may be long and filled with more challenges as he embraces this new and exciting job position.