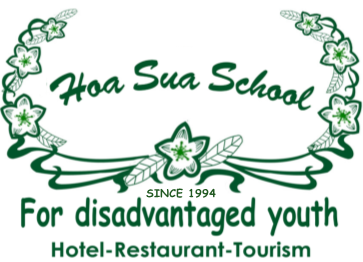 // thay = width tương ứng // thay = height tương ứng
THE JOURNEY OF THE YOUNG CHEF
Meeting young chef Nguyen Dinh Xuan while I was busy preparing for a new day of work, I took a rare moment to share about the journey that led to today's success.
Nguyen Dinh Xuan is a former student of Hoa Sua School, specializing in culinary arts, CB4A1 class, from 2012-2014. The young chef, with a very gentle face, shared about his two years of study at Hoa Sua School: "Back then, by chance, while browsing the internet, I came across an article about the school's training program. After learning more about the school and the various vocational fields it offered, somehow I immediately chose the culinary profession. Perhaps it was fate, sir..."
Xuan's two years at Hoa Sua School they left him with many unforgettable memories. For Xuan, the culinary profession attracted him from his first days of study. From simple to complex skills, from seemingly dry theories to fascinating ones, Xuan found it all strangely appealing. During those two years of study, Xuan never stopped learning, honing his skills, and nurturing his knowledge to be able to pursue his beloved profession in the future. Xuan's dream of becoming a professional chef had begun. Evaluating the former student, the teachers at Hoa Sua School all remember Nguyen Dinh Xuan with his kind face, eagerness to learn, and love for the profession he wanted to dedicate his life. Those remarkable qualities brought Xuan success on the path to affirming his talent.
After graduating, with the help and referrals from the Internship-Employment Department of Hoa Sua School, Xuan had a three-month professional internship at the Kitchen Department of Sunway Hotel. It was a three-month period of experience for the young chef, with Xuan going through many first-time experiences in the culinary world. The next stop on Xuan's journey was the 5-star Hotel de I'Opera Hanoi. Difficulties started to arise, but Xuan remained steadfast on the path he had chosen. Starting his job as a Casual employee, Nguyen Dinh Xuan quickly became a full-time staff member in the kitchen department of Hotel de I'Opera Hanoi, with the position of Kitchen Staff 2. The professional working environment there truly opened up new opportunities for Xuan in the future.
In addition to his time at Hotel de I'Opera Hanoi, Xuan also works at Cafe Swing to earn additional income. Currently, Xuan receives a salary of over 10 million VND/month at both places of work. The busy job has put him in a whirlwind with very little time for rest. But Xuan, he is living with passion and will dedicate himself fully to making his dream of opening his restaurant a reality in the near future...