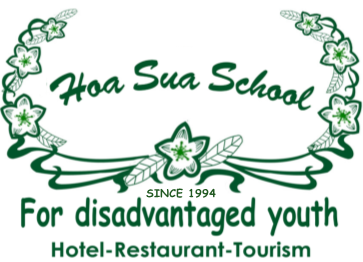 // thay = width tương ứng // thay = height tương ứng
Hoa Sua story 4
Telling me about the Hoang Ca Du, Ms. Dang Thi Linh, a school teacher of "Hoa Sua" and the head of the former student contact committee of the Alumni Association of Hoa Sua School said: "Junior Du! He is very fascinating". When I met Du I understood the meaning of the word "fascinating" that Ms. Linh used to describe her former student.
In Hoang Du Ca has two opposite feature between his shape and his character. He is already 27 years old but his suculent face still bears many baby traits of a junior high school student, on the contrary his "presentation" on the work sounds like like an experienced guru, with a "blazing atmosphere" of entrenpreneurim. It seems that Hoang Ca Du is prone for work. When I asked him about "career", Hoang Ca Du said: "I have an "oriented direction" for this profession when I heard a classmate in the school talked about the "bakery profession".
Going to the supermarket where I see the bread is sold at expensive price, I reinforced the "orientation" for myself: I have to learn how to make bread, and cake." Du said. "My family is poor, so in my childhood I got used to working. Before entering Hoa Sua School, I had worked in the management of a construction company in Hoa Binh. Hardship is quite familiar, I should not be afraid of hardship. Thus, I thought: "Whoever wants to earn money, should find people who want to make money". So even while still under the vocational training in Hoa Sua, I was already hired by Mr. Pham Quang Huy, who specialized in making "traditional" bread to acquire pratical experience. To earn money, I also "had a foot" in laying table with dishes for restaurants. When I just graduated in 2009, during the two years, I got the job to work in three places at the same time. Every day I had only two hours for sleeping. Here I go: at 4:30 a.m I had to wake up to catch the first bus for "timing the entry card" in the restaurant Papa Ro on Truc Bach road; out of the working hours, I had to "run" to the Art Museum at 3 Cao Ba Quat street and then worked on night shift for Mr.Huy. My Calendar for "working and travelling" went exactly like that for so much frequency that some " Bus ticket inspectors" did not even check my monthly ticket when I was boarding. To do so much work I could save money for capital ... Then I shared stocks with Mr. Huy for the Bakery on Fort Lang Road. We integrated together to make "our
realm".

I percieved the burning dream for "escaping the poverty" of Hoang Ca Du. The important thing is the way to achieve this dream is very decent and sincere in substance. The viewpoint for business of Hoang Ca Du is clear, the more he strives the more he has collisions. The more collisions he has the more he "grows up into maturity". Being a good student but he claimed himself as an average person to learn from their predecessors like Anh Hoa, and Quang Xuan etc. Then Du tried the "extra learning" by eating cakes at the big bakeries. Du expressed his reasoning: "Life now is not fit for slow going. The people are one step in front of us, we have to step faster to catch up with them. So we have to "scroll" faster than others. Knowing that the "market is a battlefield" but according to Du entrepreneur must have a "heart" in his "business". Hoang Ca Du offered an example: "I had a bowl of rice then snatched off hand by another person. I would not strike to snatch it back, instead I would strive to make better bowl"! But the thing to do is to have the right decision when choosing clients. Du revealed that after conducting a "survey", it was shown that 10% of customers liked eating delicious food- with little attention to price, 30% liked good food but concerned about reasonable price; 40% wanted to buy good bargained food, and 20% loved just cheap food. Du then concluded: "I have calculated and will identify the targeted customers, they are those who want good bargained food, and love just cheap food."

Round-faced boy with "milk suculent" cheeks is "old" in the way of thinking and ways of "dealing with people". Du said that he sympathized with the new graduate students because wheneve he meets them he recollects his months of hardship. So, apprentices from Hoa Sua school are immediately received by him. But according to Du, indulgence is not tolerable in business even when it is for his loved ones. Du said, "I prefer people with passion and hate those who have no thought for common endeavour." I love it when customers enjoy the cake and ask "who is bakery owner?" As graduates from Hoa Sua school? That is so sufficiently "happy" for me. Keeping a "weighted gratitude" toward the institution which has helped him with a "fishing rod" to build up his own business, he is very pleased with the establishment of the Alumni Association of Hoa Sua School. In Du's opinion, several former students wanted to contribute to the school not just money but in kind, to facilitate the development of the school.

Just over two years after leaving Hoa Sua School roofing, now businessman Hoang Ca Du opened and shared stock for two bakeries, serving French styled bread in Truong Dinh road and Fort Lang. Du said that in the time to come they would open one more bakery shop in Khuong Thuong. The capital of the enterprise is still very "modest" and also with ACB Bank debt but he hopes to overcome them all. Somehow when talking to Hoang Ca Du, I remembered the bibliography of a Thai businessman, Vikrom Kromadit "Bare Hand to Build up the Realm" a "bedside" Manual of the Anh Hoa Company owner - a former student of the Hoa Sua School.