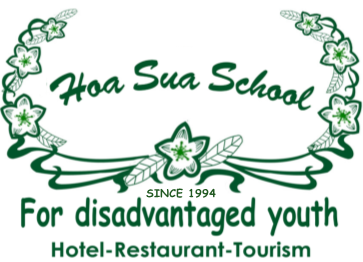 // thay = width tương ứng // thay = height tương ứng
THE DREAM OF THE YOUNG CHEF
Being able to work in the field you love is the dream of the young generation. For young men aspiring to become professional chefs and have a place in the culinary industry, the journey requires perseverance, effort, and sweat. Vu Trong Hieu, a student from Hoa Sua School, CB3A2 class, has been gradually affirming his talent at his workplace.
Hieu shares, "Those two years were truly important for me. I never thought I would fall in love with and be devoted to the culinary profession. But since I started studying at the school and had the opportunity to be exposed to the field and receive guidance from teachers, I have loved the profession without knowing when it started... The new dishes fascinated me through each lesson."
Those are the genuine shares of Vu Trong Hieu about his time studying at Hoa Sua School, where his passion for the culinary arts was ignited, fueling his dream of becoming a professional chef. The knowledge, skills, and practical experience gained during his two years of study at the school have given him the confidence to step into the fascinating yet challenging world of gastronomy. Now, as the head chef at Pizza Al Fresco's restaurant in B2 Royal City, Hieu continues to work with his passion, alongside colleagues who share the same love for the culinary industry. His eagerness to learn and strive in his work has been positively recognized by his peers and restaurant management.
With a monthly salary of over 5 million VND at his workplace, Vu Trong Hieu dedicates himself every day to his job, accumulating experience and financial resources to turn his future dreams into reality. His own dream restaurant will become a reality with perseverance and effort starting now.