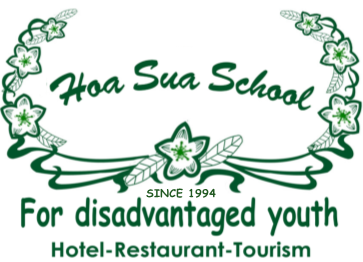 // thay = width tương ứng // thay = height tương ứng
THE DREAM OF BECOMING A YOUNG PASTRY CHEF
Phạm Thị Hương Giang – a former student of the Bread and Pastry K19D class at Hoa Sua School, graduated at the end of 2015 with a Good degree in hand. With the knowledge and skills learned at Hoa Sua School, Phạm Thị Hương Giang embarked on a journey to become a professional pastry chef.
Born in a farming family in Ha Tinh with her parents and three siblings, Phạm Thị Hương Giang matured in her own thinking. She had already decided to learn a trade in the future to have a stable job, as a foundation to support her parents and siblings. Introduced to Hoa Sua Vocational School to study in the Bread and Pastry program, Giang devoted her love and passion to the craft she was studying.
After graduation, equipped with the knowledge and skills acquired at Hoa Sua School, Phạm Thị Hương Giang confidently applied to Funny Cake bakery – 202B Hue Street, together with a classmate. Her journey to becoming a professional pastry chef began. With a salary of 4.5 million VND at Funny Cake, Giang hopes for a stable job in the future, along with plans to continue studying various types of pastries and honing her craft skills to further enhance her abilities.