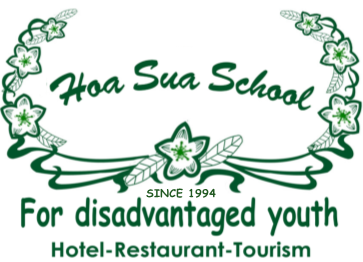 // thay = width tương ứng // thay = height tương ứng
Hoa Sua story 3
The reason for Nguyen Thi Mai Nga to go to the HoaSuaSchool is quite different from her fellow-students. While most students at the HoaSuaSchool were poor and homeless, Nga was born in a rich family and was pampered by her parents. However, when she almost became an adult, her parents went bankrupt. Those days were the greatest misfortune in their life because they did not have any house, and the dad died shortly after that. At that time, it seemed to Nga that all her hopes were broken. She studied well at school but did not pass university exams. She finally was admitted to the HoaSuaSchool only after the third attempt. Wiping the tears, Nga said, "Many times I asked myself why the god only made things difficult for me. However, it was lucky that two sisters and I were absolutely not involved in social evils when we all were very young."
Before going to the HoaSuaSchool, Nga had many jobs to help her mum. She used to sell cosmetics and fine-arts handicrafts and work as a tutor. Although Nga met many people at work, she was always felt interiority complex and shyness. Only after being admitted to a waiting class at the HoaSuaSchool, Nga's character has changed. She said,
"Actually, when I was admitted to the school, I felt that I had turned a new page in my life. That happened in 2005 when I was 22 years old." Nga studied hard and got a diploma of excellence. She wished she would become Hoa Sua's teacher to help poor students. Although her dream did not come true, Nga is still hoping to become a teacher to lend a hand to unlucky children.
Now that Nga has become the assistant manager of the restaurant at the five-star Intercontinental Hotel in Tay Ho District, Hanoi, she keeps saying that her life has changed totally after she went to the Hoa Sua School and that since then she has never been negative like before. Previously a shy and uncommunicative girl, she has now become self-confident and enterprising. Nga remembered those days when she was half-confident and half-foolish. It was when she was a newcomer at work at the Nikko Hotel in Hanoi. Following the recommendation of several colleagues of hers, Nga asked her boss when he would sign an official work contract with her. To her surprise, only two months later, the boss signed the contract with her, while it took other people at least eight months to be on probation. Despite quick promotion at Nikko, Nga left it sometime later for Intercontinental where she expected to work in a more dynamic environment. At Intercontinental, Nga started her career as a staff and then a supervisor and has now become the restaurant assistant manager. She believed that with strong determination and love for work, one can do everything. She said that working in a professional ambience like Intercontinental has helped her much. Now she is self-confident and dynamic, rather than be silent and timid like before. Honesty, studiousness and self-confidence have led her to success in her career. Nga said that because she used to be a hired worker, she understands her staff very well. Her success secret is to be frank but tolerant, and decisive but flexible. This is why none of her staff wanted to quit work. She also said that self-confidence has changed her life. The self-confidence however rooted in her mummy who has encouraged her in making every decision, her mother-in-law who has also helped her much, and her life partner, Mr. Nguyen Huu Duc, who has become a "voluntary advisor" for her when she had a hard time.
Nga is very happy about her current job at Intercontinental where she has established many ties with customers. Good foreign language skills have greatly facilitated her work. As for her, customers have not only created revenue to the hotel but have also nourished her dream of building a charitable school for unhappy children and orphans following the example of Mrs. Vy and others at the HoaSuaSchool. She also hoped that she would find warm-hearted people who would help make her dream come true.