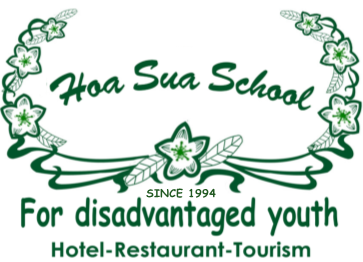 // thay = width tương ứng // thay = height tương ứng
PASSION HAS HELPED ME SUCCEED.
Those who have had the opportunity to converse and interact with Nguyen Vinh Quang - a former student of Hoa Sua School, K18A batch, can easily sense his passion for culinary arts and his dream of becoming a professional chef.
"My passion for culinary arts has been nurtured since I started studying at Hoa Sua School. I never thought that this would be the profession I would be attached to, the passion and dream that I strive to perfect every day..." These are sincere shares Quang about the memorable time at Hoa Sua School - the place that has fostered the love for culinary arts in a twenty-something young man. In the early days of attending the school, through the introduction of a former Hoa Sua student, Quang didn't like the profession and hadn't found his passion for studying. But after just one month of studying basic dishes, he realized the allure of the lessons and the fascination of creating a delicious dish with his own hands for people to enjoy. Quang received very positive feedback from the teachers regarding both his attitude and skills during one year of studying. After graduating from Hoa Sua School in 2013 with a Good diploma, Quang immediately found the job that he had always dreamed of.
Stepping into the culinary world with many new experiences after graduation, Quang worked at Fusion Restaurant - 51B Quoc Tu Giam. After two years of dedication and work here, he made significant progress in his professional skills. Originally familiar with Asian cuisine and has excelled in his expertise at Fusion, European cuisine attracted Quang through encounters with foreign guests and direct observation of his colleagues creating European dishes. He continued to learn European cuisine at the restaurant under the dedicated guidance of a foreign chef. Today, Quang confidently states that he can perform excellently in both Asian and European cuisines. This is the success that comes from the passion and eagerness to learn about Nguyen Vinh Quang.
Currently, Quang holds the position of Head Chef at Fusion after more than 2 years of dedication. In addition to his time at Fusion, he also works at another restaurant in Quan Su. His monthly income reaches 14 million VND. When asked about plans, Quang affirmed that he would remain committed to Fusion for a long time before considering bigger dreams in the future. He wants to develop Fusion together with his colleagues and elevate the restaurant that has provided him with valuable knowledge. I wish him continued success and becoming a talented chef in the not-too-distant future.