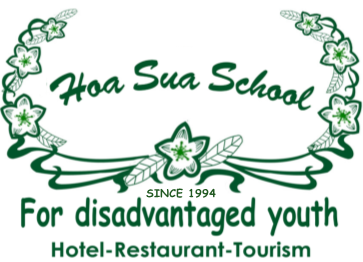 // thay = width tương ứng // thay = height tương ứng
I WANT TO DO SOMETHING FOR FUTURE SYSTEMS
Mentioning Đinh Văn Quân - the enthusiastic and talented class monitor of CB4A1 Food Processing Engineering Class, academic years 2012-2014; all the teachers at Hoa Sữa School have given him praise and highly evaluated his performance during the two years of studying and training at the school.
Quân learned about Hoa Sữa's training program through a friend who had previously studied at the school, and he also conducted his own research through online sources. However, the important factor that led him to decide to pursue this profession was his love and passion for culinary arts. Before pursuing his passion, Quân had spent years honing his skills in a military environment. This experience helped him become more mature in his thinking and actions. Additionally, it instilled confidence, vitality, and enthusiasm in him, making him a prominent figure in all the activities of the CB4A1 class. During his two years at Hoa Sữa, Quân created many memorable moments, made new friends, and was exposed to fundamental knowledge of Asian and European cuisine. The dedication of the teachers at Hoa Sữa helped him and his classmates overcome their initial hesitations, instilling in them a passion for learning and the culinary profession. Quân was not only diligent in his studies but also a beloved class monitor. He always initiated class and school activities such as soccer tournaments and cooking competitions during major holidays.
As an active young man, Quân sought part-time work while studying to enhance his skills. Bình Minh Wedding Center was his first workplace. After graduating, he worked at various restaurants, including 6 Degrees Café (189 Nghi Tàm) and a restaurant in Ho Chi Minh City, which offered a diverse culinary scene. These valuable work experiences were necessary for a young chef stepping into the profession. At every workplace, Quân was always eager to learn and improve. He shared that in order for experienced chefs to pass on valuable experiences to him, they had to see his passion, diligence, and dedication. Those early lessons were precious to Quân, helping him mature in his career. After two years of working from the North to the South, Quân explored and applied for positions at Silk Path Hotel, a hotel chain. He was accepted after a rigorous evaluation by the recruiters there.
When talking about his future plans, the young chef surprised the writer by focusing on community and society. His first plan, which he is currently implementing, is to regularly return to Hoa Sữa School to meet with students - the future generation - and discuss culinary arts, the initial lessons, and valuable experiences when starting a career. Quân believes these will be interesting and enriching conversations, inspiring the future chefs of Hoa Sữa. Đinh Văn Quân is also in the process of writing and completing his own book to pass on to future generations. This heartfelt book will cover all the initial experiences, practical lessons in the profession, difficulties that may arise, and skills to handle and resolve situations. Quân wants to help future students understand the challenges and situations they may encounter in the culinary profession, equipping them with the best tools. Like every other chef in the culinary industry, Quân also dreams of opening his own restaurant where he can unleash his creativity in crafting new dishes. His most impressive intention as conveyed to the writer is his desire to open a charity canteen for the poor. This would be a place where the underprivileged can enjoy high-quality meals at a low cost.
Currently, Đinh Văn Quân holds the position of Head Chef at Silk Path Hotel with a salary of 7 million VND per month. Ahead of the young chef, there are still many difficulties and challenges awaiting him. I wish him success in achieving his future plans soon!