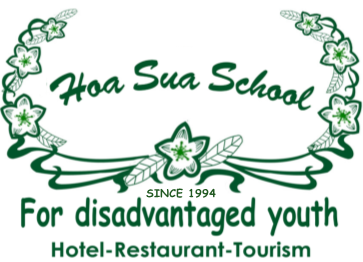 // thay = width tương ứng // thay = height tương ứng
Hoa Sua story 5
I liked Ms Nguyen Thi Thu Huong immediately after I first met her, just because she arrived on time for the appointment with me. Huong said that working punctually is an important thing that she has learnt from her foreign bosses at Press Club in Hanoi.
The reason for Huong to apply for vocational education at the Hoa Sua School was similar to that for many other learners. Her dad died early when her family was big and poor. Huong could not afford to go to university.
Enrolled to a waiting class, Huong was then not happy thinking that people usually look down at waiters and waitresses. However, as time passed, Huong changed her preconception about the job. Now that Huong is an assistance manager of the food and drink division of Press Club, which is a reputable restaurant in the heart of Hanoi, she is still saying that Hoa Sua has taught her a sense of work and hygiene. "One year an assistant teacher at Hoa Sua has helped me handle difficult situations with customers. This also explains that many renowned hotels and restaurants in Hanoi like to employ graduates from the Hoa Sua School," she said.
A dynamic, studious and hard-working person, Huong could easily adapt to a new job. She said that she has learnt a lot from the workplace where bosses are all foreigners. She said, "It was not always easy for me in my early days as a waitress at Press Club. In 2003 when I worked there as a waitress, I felt embarrassed and hard, just because I did not have experience and I had to learn the art of eating and drinking from customers who come from many foreign countries. However, my English improved much during that time since I was lucky to meet many customers who were good and enthusiastic. They corrected my pronunciation and grammar. I was also pleased to meet many Vietnamese and foreign journalists who helped me broaden my knowledge of culture and society. Day by day I lost my inferiority complex and found self-confidence."
The high-standard work environment at Press Club has required Huong to improve herself to meet the need. She has studied hard after work. "Perhaps, this is one of major reasons why I am still single," she said.
At this time, Huong is a fourth-year student of the Foreign Economics Faculty of the Foreign Trade University. She is also learning information technology and a foreign language in order to work better as an assistant manager at Press Club. Huong said, "My boss gave me only ideas in order for me to design good menus so as to attract customers. The menus however must be changed every season. Sometimes, I had to correct them 3-4 times before they were adopted by the chef. I have no way but to work hard."
As a saying goes, "Fire proves gold, adversity proves men", hard work has helped Huong improve her ability and career. Initially a waitress, she was appointed to be a receptionist, then a trade center supervisor and now an assistant manager. With her experiences at work for a foreign-invested business, Huong told her schoolfellows at Hoa Sua that they must work seriously, learn by mistakes, never make the same mistake again, and bravely admit their mistakes. In doing so, they would certainly get sympathy from their boss.