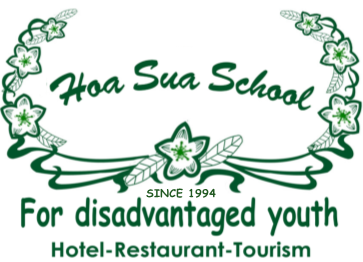 // thay = width tương ứng // thay = height tương ứng
Hoa Sua story 1
Vu Duc Thanh was a student of the HoaSuaSchool. He was enrolled to the school in August 1996 under the state policy towards priority families. He graduated from the school in December 1997 and had worked for the Press Club for six years and the Hilton Hotel for subsequent three years. He has been working for the Intercontinental Hotel in Tay Ho District, Hanoi, since 2008. At this time, he is the chef of the pastry team. Thanh has a wife who was also a Hoa Sua student and two children. He has won a first prize for the northern region from the qualifying round of the Bakery World Cup.
Thanh is punctual, straightforward, careful, quiet, kind and open-hearted. He wants to work for businesses managed by foreigners. However, he does not hesitate to quit when he feels that he needs to change the work atmosphere. Thanh said that changing the workplace does not mean bad news to him and it is not because "The grass is always greener on the other side of the fence". He wants to work where he can show his ability and skills and have good relations with bosses and colleagues.
Thanh feels that he is always lucky at work. Before he went to a bakery class at the HoaSuaSchool he used to work as a mason coolie, a glass worker and an assistant geological surveyor. Although Thanh had to bike to Hoa Sua everyday, he felt that he was luckier than his classmates. He remembered his early days at Hoa Sua when Mr. Dung, Mr. Them and other elder classmates taught him the first lessons about cleaning floors, putting coal into the fire, banking the oven, cleaning trays and pots, kneading the dough, putting cakes into the oven, baking them and more. The elder classmates said to him that one should work hard to fulfill all tasks with success.
Thanh said, "Because I have experienced hardships and was lucky to work for famous restaurants and hotels in Hanoi, I always wish to help younger colleagues by showing them technical skills and work experiences. However, for many reasons, my efforts have not brought about good results."
Thanh was concerned and outspoken. He said that Hoa Sua has become a reputable name and that many companies want to employ people who were students of the HoaSuaSchool for charity purpose and for confidence in the quality of teaching at Hoa Sua. He also said that graduates from Hoa Sua have much better skills in cooking, baking, waiting and bar service than those from other schools in Hanoi and other provinces. However, a number of Hoa Sua students are not hard-working. Perhaps, they do not understand that jobs like these require hard work and love for the job, rather than work skills.
Thanh said that he misses Hoa Sua and thanks Mrs. Vy and teachers at the HoaSuaSchool for teaching him and making it able for him to earn a living and be happy with himself. "We wish that Hoa Sua will maintain its reputable name and always be the 'cradle' that would help young people nationwide confidently come to life," Thanh said.