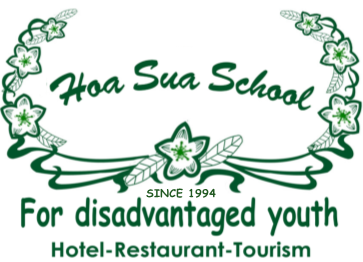 // thay = width tương ứng // thay = height tương ứng
Hoa Sua story 22
Meet our volunteer Quyen Dam,
Restaurant Management Training Advisor for Hoa Sua School for Disadvantaged Youth, started in March 2018 for a 1 year mandate.
Quyen Dam left Vietnam with his family 39 years ago as Vietnamese boat refugee to Canada. Quyen received a Bachelor Degree in Commerce, specialized in Hospitality Services at the University of Guelph. He worked in the Hospitality Services for over 30 years in various positions from Dishwasher, Cook, Hotel Front Office Supervisor and worked at the University of Guelph, Ontario for the past 20 years in various management positions including Project Management, Food Services Manager and the past 10 years as Catering and Special Events Manager. Quyen has the creative flare and customer services skills help created and catered many memorable successful events from 10 to 3000 guests and brides.
Quyen is fortunate able to return to his homeland in March 2018 to support Hoa Sua School for Disadvantaged Youth as he was once one, with a hope for a future. He is eager to utilize his passion for food, design and culture to build meaningful relationships with positive impacts for the school.
Quyen loves adventures, outdoors, photography, gardening, food and travel, he enjoys discover new thing, new food and improving his Vietnamese.