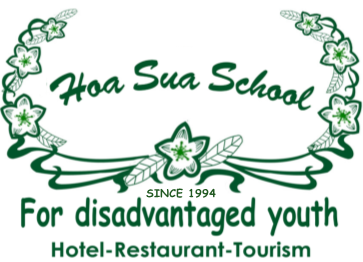 // thay = width tương ứng // thay = height tương ứng
Hoa Sua story 19
(Interview with Pham Dinh Khanh - Alumni of K15C Asian cooking class)
Q: Hello Khanh, can you introduce about yourself?
A: Hello, my name is Dinh Khanh Pham - Alumni of K15C AsianCooking class. I was born in Ninh Binh province. Now I'm working at Hotel de I'Opera in Ha Noi
Q: Why did you apply for Asian cooking at Hoa Sua school? By the way, could you share about the time during you studying at the school?A: My parent is farmers so their income is low and our living is so difficult. Because of poor family, I was enrolled in Hoa Sua School with free-training. In addition, I also lived in school dormitory and eating at its canteen without fee, too. It was unforgettable time in my life.
Q: Can you tell me the reasons why you choose Asian cooking in many other sectors of the school?
A: Actually I had already researched it before. Also I consulted from the teachers that it will give me more opportunity after graduation. Therefore, I have peace of mind to study and try to achieve high academic achievement.
Q: Do you see that the decision to study at Hoa Sua School has changed your life?
A: With the current stable job and decent income level, I can fend for myself life and a little bit for my family. Every month I still send a portion of my salary to my family.
Q: Where do you work after graduated from Hoa Sua School?
A: After graduated in 2011, I had 3 months of professional internship at a restaurant in Cat Ba. Ending the practice session I was back to Hanoi seeking employment opportunities and had one year working in a Lent restaurant. Then I did two years at a Japanese restaurant. All have experienced workplace are giving me a lot of useful things. Those were knowledge, skills and experience that I had got. I have filed at Hotel de I'opera Hanoi and stick with this place. I hope that I will have the opportunity to develop and work permanently in the professional environment here.
Q: How about your income in the hotel?
A: About 6 million VND
Q: Do you have other plan for your future?
A: I think that I will just try my best to work well in order to get more income.
Q: Thanks for sharing and best wishes for you!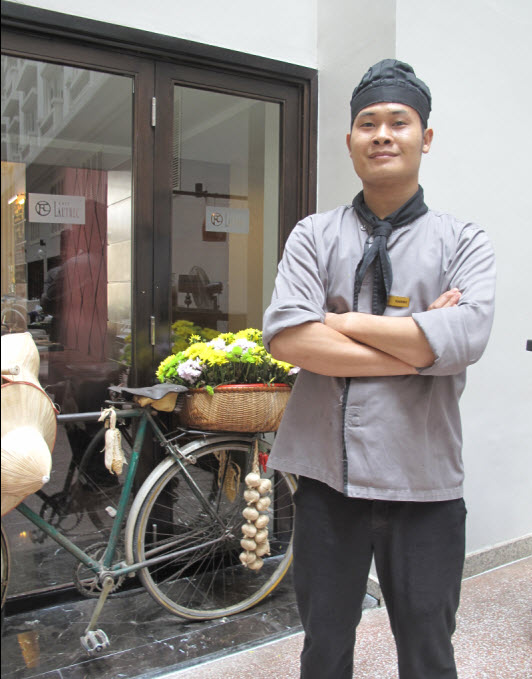 Pham Dinh Khanh at Hotel de I'opera Ha Noi