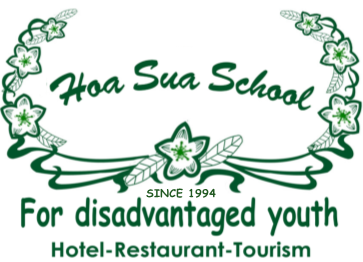 // thay = width tương ứng // thay = height tương ứng
Hoa Sua story 18
" I have a dream of my restaurant in which all staffs are students in Hoa Sua school. I believe that the combination of the restaurant and the available Hoa Sua's brand will become more successful" Trinh Anh Tuan – a student of Restaurant management QT9A1 sharing...
The Hoa Sua's teachers always remember a student who has a closed face and great character of future restaurant manager. Tuan knew about the Hoa Sua's traning program through a cousin who is an old student of school. This time, the young boy was still confusing about his future. The sharing of his cousin about Hoa Sua school made him focus on. After that, he decided to learn at Hoa Sua school with the major of Resstaurant Management. Tuan says: " At the beginning, he was very confused between the major of Cooking and Restaurant Management. But after that, he saw his favorite and character, so he decided to choose Restaurant Management.
Two years in Hoa Sua is the great time that he has felt. Not only getting the new friends, he also learned many skills from experienced teachers . Hoa Sua is a great environment for him to improve the communication both in Vietnamese and English. Each year, the school welcome many volunteers and this is a good chance to high up English for restaurant managerment's students.
Tuan said: I got the chance of learning management skills and knowledge after 2 years. Base on this, I continued to learn in work. I believe that my successful will make sure the quality of Hoa Sua school in training the higher human resources for Tourism – one of the most important part of Economic".
After graduation, with the excellent degree, Trinh Anh Tuan worked at Hoa Sua Baguette & Chocolat in Ha Noi for 6 months. Morever, he both applied for working at Sam Son FLC Luxury Resort. After 6 months work for them, he has kept the salary of 8.500.000VND per month. Finally, the way comes to successful was opened in front of him.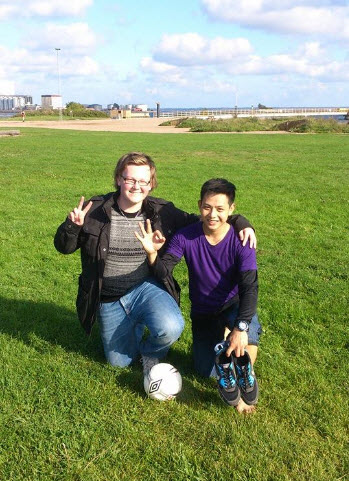 Trinh Anh Tuan ( on the right ) during exchanges in Sweden