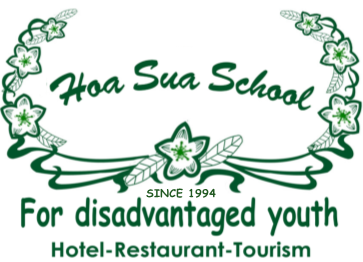 // thay = width tương ứng // thay = height tương ứng
HOA SỮA HAS CHANGED MY LIFE
Meeting Nguyễn Thị Hường again - a former student of the Bread and Pastry Class K19D at Hoa Sữa School, right at the time when the bakery is busy preparing for a hectic workday, she still smiles and takes the time to share about her time studying under the roof of Hoa Sữa School.
Nguyễn Thị Hường left her parents and her poor family of six loved ones in Phú Thọ to come to Hanoi to pursue education with the hope of changing her life in the future. For her, that was a crucial turning point when she sought and enrolled in Hoa Sữa School, a place that always welcomes teenagers from difficult backgrounds with open arms. While studying at the school, she received 75% financial support throughout her learning journey and daily life and received dedicated guidance from the teachers at Hoa Sữa.
From a shy girl who had to be away from her family and had no knowledge of the baking profession, Nguyễn Thị Hường gradually developed a love and passion for the path she had chosen. Each lesson with Hường was like an intriguing discovery journey as she learned about various ingredients and important skills of the baking profession, a craft that requires meticulousness and careful attention to every step to achieve high-quality products. After 9 months of studying at the school with maximum support from the School Board and the dedication of the teachers, Nguyễn Thị Hường graduated from the Bread and Pastry Class K19D in October 2015 with a Good-grade diploma and high praise from the direct teaching teachers.
With the knowledge and skills learned at Hoa Sữa School, Nguyễn Thị Hường confidently applied for a position at Funny Cake Bakery - 202B Huế Street. Her journey to becoming a professional pastry chef has begun. With a salary of 4.5 million VND at Funny Cake, Nguyễn Thị Hường is nurturing the dream of opening her bakery in her hometown. I wish her dreams will become a reality in the not-too-distant future.