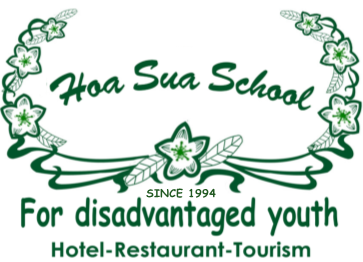 // thay = width tương ứng // thay = height tương ứng
CHOOSING THE RIGHT DIRECTION IS EXTREMELY IMPORTANT FOR ONE'S CAREER.
After completing military service, Chinh was introduced to study at Hoa Sua, thanks to a recommendation from an acquaintance. With 15 years of operation in Sapa, Hoa Sua has established a reputation and is always trusted by the community to recommend vocational education for their children.
As an ethnic Giay minority, Chinh is eligible for a 100% tuition fee waiver at Hoa Sua, but he chose to decline the subsidy and pay for the course himself. He enrolled in a 3-month basic Bread Making class.
QUALITY EDUCATION PROGRAM
The 3-month Basic Bread Making class focused on 90% hands-on practical training and skill development in the production workshop. This helped Chinh continuously improve his craftsmanship and become proficient in all types of bread upon completing the course.
ENTREPRENEURSHIP
Chinh received guidance from his teachers on opening and operating a bakery. They introduced him to necessary equipment, tools, ingredients, and how to set up a bakery. After graduating in July 2019, he boldly opened his own bakery named "Chinh Bakery."
Chinh's bakery currently supplies the local community, restaurants, and homestays in the area. Although there are challenges ahead, Chinh's initial success has brought great joy and pride to Hoa Sua, and as a highland student had the courage to start a business in this field.
We wish you good luck and even more success with your small bakery.