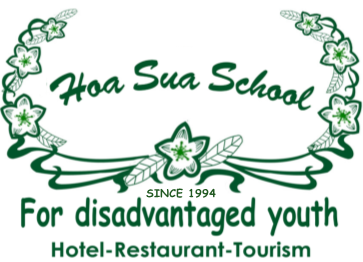 // thay = width tương ứng // thay = height tương ứng
CHOOSING THE RIGHT CAREER PATH IS ALWAYS A MEASURE OF YOUR FUTURE CAREER SUCCESS.
Once a third-year student at a university, Phu, a student from the Mong ethnic group, unexpectedly switched his focus to studying Restaurant Operations at Hoa Sua vocational school. He was fortunate to receive 100% financial support for tuition fees, meals, and accommodation throughout the course, provided by the university and Samaritan's Purse organization.
After graduating from Hoa Sua in October last year, Phu returned to his hometown and was hired as a Bartender at Sapa Village Hotel. With excellent language skills, a bright smile, and solid professional competence, he was highly valued by both the management and the customers. Phu takes pride in sharing that every foreign guest who visits the hotel hopes to meet him again on their next visit.
Each entrepreneurial story at Hoa Sua School is a painting that makes life more beautiful.